Nikishkin Ilya Igorovich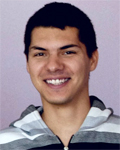 Position:
Junior reasearch assistant;
---
e-mail: ,

Personal information
Was born on May the 9th 1990 in Sumy, Ukraine. In 2015 graduated as a master of physics majoring in research work and teacher of physics from Sumy State Pedagogical University named after A.S. Makarenko. In 2018 finished postgraduate study from IAP NAS of Ukraine with the specialization in theoretical physics.