Tulyakova Nataliya O.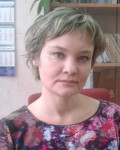 Position:
Reasearch assistant;
PhD
---
e-mail:

Personal information
MSE, PhD, graduated from Kharkiv Aviation Institute named after M.Ye. Zhukovsky, Faculty of Radioelectronic Systems of Flying Vehicles, with a M.Sc. degree in Biotechnical and Medical Devices and Systems (with highest honors). She received her Ph.D. degree in Biological and Medical Devices and Systems in Kharkiv National University of Radioelectronics. Her PhD thesis was on design of nonlinear stable methods for removing mixed noise and physiological artifacts in biomedical signals. Her research work deals with digital signal/image processing.