Lysenko Iryna O.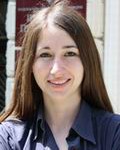 Position:
Reasearch assistant;
PhD
---
e-mail:

Personal information
Iryna Lysenko was born in 1986, Sumy, Ukraine.
In 2008 she graduated from the Sumy Sate University, speciality - applied mathematics.
In 2008 she worked as an engineer of the second category, Institute of Applied Physics NAS of Ukraine (IAP NAS of Ukraine).
From 2008 to 2011 she was a post-graduate student , IAP NAS of Ukraine.
Since 2011 she has been working as a junior researcher of the laboratory of microscopic studies of reactor materials, IAP NAS of Ukraine.
She is the author of 13 scientific works, 8 among them are articles in specialized editions.
Інше (2011), Стипендія Президії НАН України (2011), Грант Президента для молодих вчених (2016), Премія Президента України для молодих учених (2017),