Shchokotova Olga M.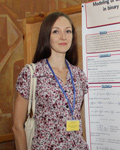 Position:
Reasearch assistant; Junior reasearch assistant;
PhD
---
e-mail:

Personal information
born: 1985 in Magnitogorsk, Russian Federation
since 2010: junior research assistant, department modeling of radiation effects and microstructure transformations in construction materials, Institute of Applied Physics of the National Academy of Sciences of Ukraine
education:
2002–2007: Sumy State University, Ukraine;
2007–2010: postgraduate study, Institute of Applied Physics, Ukraine.
research interests: contact mechanics
Ph.D.-thesis: Shchokotova O. M. Plane problems of smooth and frictional contact for elastic wedge: 01.02.04 – mechanics of deformable solid bodу. – Dnipropetrovsk, 2012.
Ювілейна почесна грамота (2018), Почесна грамота управління освіти (аспіранти, студенти) (2020),