Ignatev Igor Gennadiyovuch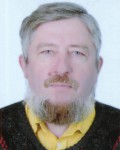 Position:
Senjor reasearch assistant;
---
e-mail: ,

Personal information
Born in 1963, in 1987 he graduated from Leningrad Polytechnic Institute with a degree in Engineering Electrophysics.
Since 1989 he has been working in the Institute of Applied Physics of the NAS of Ukraine (from 1989 to 1995, from 2001 to the present). In 1993 "he received the degree of candidate of physical and matematichesknih Sciences. As a senior researcher working since 1994. In 2006 he received the academic title of senior researcher.
Scientific activity Ignatieff Igor G. is aimed at the optimization calculations of probe-forming systems, nuclear microprobe, ion-optical characteristics of the accelerating tube, the improvement of the electrical characteristics of the ESA "Sokol" IAP NASU.