Baturin Volodimyr A.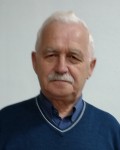 Position:
Head of the Lab.; Member of Academic Council; Member of specialized Board of Studies on theses defence;
---
e-mail:
Work phone: +38042332250

Personal information
Volodimyr Baturin was born in 1949, Poltava, Ukraine.
He graduated from the Kharkiv State University on the speciality "Experimental nuclear physics" in 1974.
1991 - PhD degree, speciality - physics of charged particle beams, specialized Senate of the Moscow Engineering Physics Institute.
2005 - senior researcher, speciality - physics of nuclei, elementary particles and high energies.
Working experience:
1974 - 1992 - worked at Sukhumi Institute of Physics and Technology on the posts of senior laboratory assistant, engineer, junior research assistant, head of the group, senior researcher
1992-1993 - senior researcher of the department of electrostatic accelerators, Institute of Applied Physics, NAS of Ukraine
1993-1994 - senior researcher of laboratory #12
1994-1996 - head of laboratory #15
1996 -1999 - senior researcher of the department of electrostatic accelerators, Institute of Applied Physics, NAS of Ukraine
From 1999 to present - head of the laboratory #11
Почесна грамота відділення ядерної фізики та енергетики НАН України (2014), Почесна грамота відділення ядерної фізики та енергетики НАН України (2019), Нагрудний знак - За професійні здобутки (2018),